By Richard Thomas
Rating: A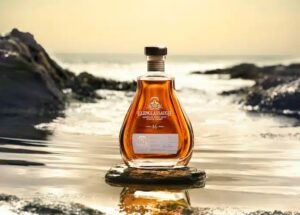 Glenglassaugh is a Speyside distillery, located some 50 miles northwest of the regional center of Aberdeen. Founded in 1875, it's story has fewer twists and turns to it than many of Scotland's distilleries. The distillery was started by a grocer so as to supply his own retail needs, and many whisky brands in the late 19th Century were founded by grocers. It was sold in 1892 to Highland Distillers and remained operational (except for a brief closure for renovation and expansion in the 1960s) until 1986. Under new ownership, it reopened in 2008. It was then absorbed into the BenRiach Group in 2013, which was then acquired by Brown-Forman in 2016. Master Blender Rachel Barrie now oversees Glenglassaugh's workings.
When Glenglassaugh made its comeback, it was on the backs of a handful of ultra-aged releases coming out of their old stock, made in the 1980s or before. One could say Glenglassaugh is best known for its 30 and 40 year old single malts, so it was to great interest when it was announced a 46 year old Glenglassaugh was coming to the United States.
Only 215 bottles of this malt are coming to America (total numbers available globally aren't known), each filled with whisky distilled in 1975. It's bottled at 41.7% ABV.
The Scotch
I have had my dark golden-colored pour out on the table as I've been writing the above text, and I can already say it's aromatic. The aroma is rising out of the Glencairn to greet me. That scent is fruity and tropical, with mango and plum sitting on a toasted oaken dish of ambergris.
The flavor is as perfume-y as the nose suggests. Again, it's fruity with the mango, but the plums morph to cherry and black currant. This is accented by sandalwood and mint. The flavor rolls off those latter spices, before evolving into a pipe tobacco flavor that lingers on and on.
I can't really say if this pour is worth $4,800 a bottle, because I'm not in the socio-economic stratum that has a middling four figures to spend on a bottle of whisky. That said, I can tell you what is in that bottle with a single word: delight.
The Price
Each bottle is officially commanding $4,800.
---